FOOD
13 July 2010, 11:12AM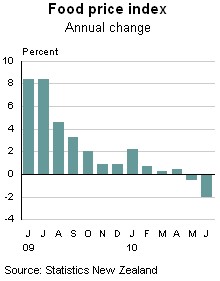 Food Price index - annual change
Highlights
In June 2010 compared with May 2010:
Food prices rose 1.3 percent.
Fruit and vegetable prices rose 9.3 percent.
Meat, poultry, and fish prices rose 2.7 percent.
Restaurant meals and ready-to-eat food prices rose 0.3 percent.
Non-alcoholic beverage prices fell 0.8 percent.
Grocery food prices fell 0.8 percent.
From June 2009 to June 2010:
Food prices decreased 2.0 percent. This is the largest annual fall since the monthly series began in January 1960.