REAL ESTATE
11 December 2009, 10:50PM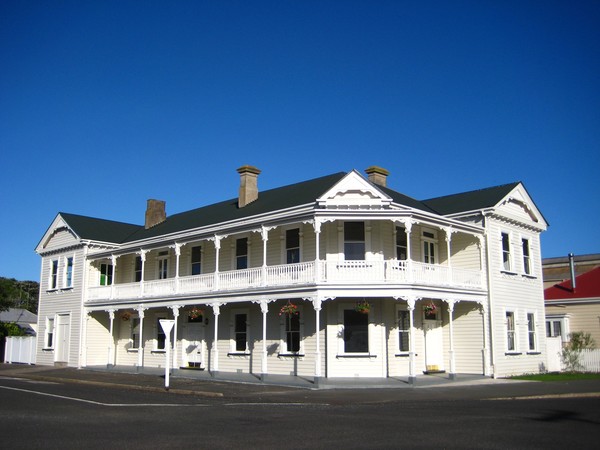 Old Royal Hotel building, Thames, for sale
The old Royal Hotel Thames is an icon of Thames' gold-mining past and stands at the gateway to the Coromandel Peninsula, one of New Zealand's most popular tourist areas.

Built in 1904 to the highest standards in solid kauri, the ca. 1,000 m2 Royal Hotel occupies a corner site in a quiet part of Thames, close to Victoria Park and the waterfront.

To the delight of a supportive Council and neighbours, the building has been lovingly renovated under Architect supervision, preserving its superb character while incorporating contemporary standards. Rewired, restored and repainted, The Royal now awaits its new destiny.

The Hotel features beautiful woodwork throughout and soaring ceilings. There is a sweeping porch on the ground floor, mirrored by a gracious verandah on the upper floor. A landscaped courtyard at the rear of the building offers further restful space.

Resource consent has been granted for accommodation purposes. The developer's plans are available (included in the asking price) for a complete fit-out comprising:
• A Boutique Hotel or Lodge with grand Reception and Office, plus 10 large ensuite rooms, many giving onto the upstairs verandah. One enormous room incorporates a kitchenette and is suitable for longer-term occupancy. There is little competition in the area for this sort of accommodation.
• A Restaurant/Cafe with commercial kitchen, offering table seating for approximately 50 guests plus a very comfortable lounge area. This restaurant could be operated by the Hotel owner or leased out to a restauranteur. Thames is not overly supplied with quality restaurants.
• A separate Tenancy, ideal for professional offices providing regular income – and patronage to the restaurant.
• An Owner/Manager Apartment. The hotel is of a size that can be managed by a couple plus staff and the apartment design reflects that.
• There is on-site parking for 5 vehicles; provision to convert the street parking to angle parking for a further 7 vehicles (Resource Consent exists), and ample on-street parking in the area.

The existing plans for a boutique hotel represent only one potential future for the Royal Hotel. It could equally be designed as a Rest Home, Commercial offices, Respite centre or self-contained apartments. The buyer will choose!

A commercial operation will see an immediate GST claw-back of 12.5% of the purchase price: which could go a long way towards taking the Royal to the standard desired by the new owner.

The potential revenue from the Royal Hotel as proposed is very exciting and the complex offers its new owners a gracious apartment home; a potentially exciting and profitable business; the Coromandel lifestyle on the doorstep; and great prospects for capital gain.
For more information, contact the broker: Malcolm Teesdale, TourismProperties.com, on 027 530 8738