ENVIRONMENT
5 October 2010, 12:10PM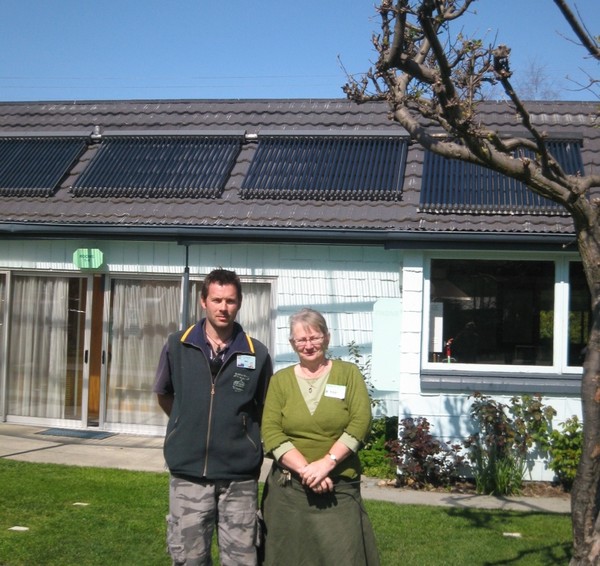 | | |
| --- | --- |
| CREDIT: Southern PR (Added by infonews.co.nz) - 423 views, 0 comments | ID: 10794 |
Erna and son, Michael Spijkerbosch in the Creeksyde grounds with solar panels in the background
Queenstown Top 10 Holiday Park "Creeksyde" has become an EarthCheck certified destination after being EarthCheck certified from the global sustainability and environmental auditors.



The environmentally conscious holiday park now joins other like-minded travel and tourism operators around the world in being EarthCheck certified. Creeksyde had previously achieved seven annual certifications with Green Globe and now upgrades to EarthCheck, which is a more stringent assessment process.



EarthCheck recognizes that Creeksyde carries out its daily operations in ways that are compliant with the highest standards of the EarthCheck programme – currently the largest environmental management system used by the travel and tourism industry for benchmarking and certifying sustainable operational practices.



Creeksyde is world renowned for its commitment to sustainable practice and in 2003 was the world's first holiday park to be environmentally Green Globe benchmarked. In 2004 it was the first to be Green Globe certified.



Owners Erna and Tonnie Spijkerbosch say their position at the forefront of sustainable practice and environmental awareness is simply a result of applying their environmental philosophies from day one.



"We were always focused on a triple bottom line. Our people (customers and staff), our environment and financial viability are integral to our business and this approach has always produced great results," said Mrs Spijkerbosch.



The couple continuously look to improve their business where possible and recently attended EarthCheck's first Destino Conference and full-day training session which included a mock audit of the Langham Hotel in Melbourne.



"The auditing and benchmarking process with EarthCheck also gives us a strong set of reports which show us where we are going," said Mrs Spijkerbosch. "Our benchmarking results show we're performing very strongly, better than best practice, across all monitored areas. But we still have things we can improve on and goals to reach to further improve our results."



The team at Queenstown Top 10 Holiday Park Creeksyde carries out non-chemical cleaning, environmentally-friendly lawn fertilising, high level recycling and worm composting Other actions include reusing materials at the park, which Mrs Spijkerbosch says has resulted in some very interesting features, such as decorative BBQ areas, kitchen floors and benches."



Erna and Tonnie also use an operational auditing programme 'Elaine,' to track regular tasks, staff performance in housekeeping, grounds and daily issues, and credit the use of reports as a tool for meeting wage budgets and HR matters.



Monitoring and benchmarking activity has provided several more benefits to the campsite, including locating long-term water leaks, giving staff targets to focus and adding to the bottom line through cost savings.



"And best of all, our guests love it," says Mrs Spijkerbosch.



EarthCheck is a web-based solution suitable for large and small organizations. It makes it possible to track and measure resource use and waste output, enhance design and operational efficiencies, and encourage Corporate Social Responsibility (CSR). The programme has many important social and economic benefits.



EarthCheck clients can benefit from average savings of 30 per cent for energy and waste stream, and 20 per cent savings for water consumption.