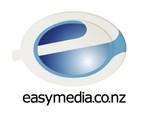 Easy Media
Business
Member since: 11 September 2007
Profile views: 1278
EasyMedia is a website for anyone to upload their own media. This media can be for sale or for free download. Anyone interested can upload their media onto a public template or they can request a custom designed page. EasyMedia will be supporting the creative community by offering a number of grants and competitive opportunities. www.easymedia.co.nz
Photos (5)
Events (5)
Friday, 12 October 2007
Wednesday, 19 September 2007
Saturday, 15 September 2007
News (18)
Friday, 19 October 2007
11:30AM
Greenlane Studios going through big changes.
The team at Greenlane Studios are undergoing massive changes in the terms of equipment and software.
133 views
11:27AM
Chris Barclay to have Easymedia page released shortly
Chris Barclay is currently having his website designed by the Creative Inc team to be launched by Easymedia very shortly.
120 views
11:18AM
MC Laneous to release Mastered Track + Demos
MC Laneous is to release a Mastered Track on his new website
http://www.easymedia.co.nz/mclanious/
The Drum 'n' Bass guru is in progress of finishing his first album, and in the process is releasing this Mastered Track plus a number of Demo's to get the tongues wet of the Drum 'n' Bass junkies out there.
93 views
11:12AM
Easymedia Competition
Easymedia are holding a competition.
106 views
11:10AM
The Skinks, recording at Greenlane Studios.
Thats right, you heard it first on InfoNews.
102 views
Tuesday, 2 October 2007
6:28PM
MC Lanious
MC Lanious, a.k.a.
106 views
6:27PM
Hyperspace Records
We are a record label signing the likes of Drum'n'Base, Electro, and Harddance musicians and DJ's.
114 views
6:22PM
Mikey Rockwell
New Zealand beat and rhyme specialist, this emcee is on another tip of good vibes and uplifting concepts.
78 views
6:21PM
Rockwell Records
Rockwell Records is a company set up to record music as the artist desires.
75 views
6:20PM
The Diablo Open Mic Competition
The Diablo Bar is currently holding an Open Mic Competition with the help of
www.OpenMic.co.nz
and
www.EasyMedia.co.nz
.
105 views
4:42PM
OpenMic.co.nz
OpenMic.co.nz is a website designed by Creative Inc and developed by On Company, to give information, images and video of the Open Mic venues across New Zealand.
111 views
4:40PM
Greenlane Music Production
'Greenlane Music Production will assist artists and bands in either creating music or remixing what they currently have.
113 views
4:33PM
Easy Media!
Easy Media.co.nz is a website where any musician can sell their music.
93 views
3:43PM
Creative Inc.
'Creative Inc is a new company set up in Greenlane Auckland.
176 views
2:36PM
Greenlane Recording Studios
'Greenlane Recording Studios' is Auckland's newest recording facility.
285 views
Wednesday, 19 September 2007
4:32PM
Creative Websites at Realistic Prices
Creative Inc in Greenlane has just launched with great prices on websites.
104 views
Tuesday, 18 September 2007
10:42AM
New album
MC Lanious a.k.a. Albi Collier has honed the art of Drum 'n' Bass.
477 views
Tuesday, 11 September 2007
12:24PM
Turn Ya Dial Up Music Video
Mikey Rockwell's first single from the 2007 Free Slaves album.
752 views