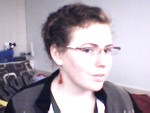 Laura Turner
Individual
Member since: 26 March 2007
Profile views: 1134
Laura Turner, 21, is currently studying at The Peter Arnett School of Journalism, in Invercargill. Originally from Waimatuku, Laura Turner studied at the University of Otago, and gained her BA in English, and Film and Media Studies in 2006. With a love of writing and current events, Journalism was the next logical step for Laura. She eventually intends to establish a food and lifestyle magazine that concentrates on market produce and fresh New Zealand flavours.
Photos (0)
Events (1)
Tuesday, 5 June 2007
News (1)
Thursday, 7 June 2007
12:15PM
What's With The Zombies?
In most horror films zombies are often thought to be only good for disposing of in a gruesome manner, but Wellington based Suspect Productions are to release a documentary early next year to show how the undead have helped to create our national identity within New Zealand.
557 views