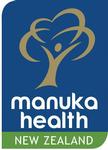 Manuka Health New Zealand, Ltd.
Business // News // Te Awamutu
Member since: 22 March 2011
Profile views: 1659
Manuka Health is a New Zealand-owned company committed to providing effective natural healthcare solutions utilising the unique healing properties of bioactive compounds found only in New Zealand flora and fauna.

By combining leading edge research with these naturally occurring compounds, we are able to deliver a range of products that restore balance and quality to people's lives.
Manuka Health New Zealand Limited
PO Box 25
Te Awamutu 3840
New Zealand
Trish Keenan
Web Marketing and Development
Ph +64 9 580 1150
trish@manukahealth.co.nz
Photos (1)
Events (0)
News (2)
Friday, 16 December 2011
9:55AM
New Zealand innovation revolutionises natural healthcare worldwide
Global leaders in the production of therapeutic grade manuka honey, Manuka Health, have revealed the next step in their evolution towards becoming a worldwide force in the natural healthcare industry.
152 views
Wednesday, 23 March 2011
9:55AM
10-fold earnings potential from new tech Manuka honey
Earnings by a leading company in New Zealand's $100 million Manuka honey export industry have the potential to increase ten-fold through use of patented technology outlined at a conference in Auckland today.
150 views