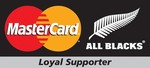 On July 4th the MasterCard All Blacks Roadshow rolled into Taihape where thousands of Kiwis turned up at the War Memorial Park to watch the All Blacks test their skills in the gumboot capital of the world.

The MasterCard All Blacks Roadshow hosts a series of community events giving local fans the opportunity to get up close and personal with All Blacks such as Richie McCaw and rugby legend, Buck Shelford, by competing in rugby challenges including; catching, try-scoring, kicking, passing and lineout skills.

This year, the Roadshow has introduced a new element - the community challenge, and in Taihape All Blacks Richie McCaw, Conrad Smith, Aaron Cruden and rugby legend Buck Shelford took on the local residents at gumboot throwing.

All Black legend, Buck Shelford was blown away by the turnout and support from the locals.

"We received a great welcome with the Utiku & Old Boys RFC and the Taihape Rugby Club turning up to show their support, as well as the local Rotary Club of Taihape lending a hand to measure our gumboot throwing."

Leading the Taihape-ans into battle was former gumboot throwing record holder, Curley Troon whom prior to July 4th had said the locals had been practicing and were ready to take on the Boys in Black.

"They might have the skills when it comes to throwing a rugby ball around, but no-one can throw a gumboot further than us - it's all in the swing."

All Black Captain, Richie McCaw says despite the All Blacks enthusiasm they were outshone with the locals throwing some pretty decent lengths.

"After a few attempts and a few red cards for foul throws, it was time to put our brief training into action. I believe my best throw was around the 25m mark, but the top throw for the day was an awesome 33.95m."

Top 3 Gumboot Throws on the day:

1. Niki Martin 33.95m
2. Tane Martin (Niki's brother) 30.30m
3. Evan Satheriey 30.20m

After a busy but enjoyable afternoon in Taihape, Richie, Conrad and Aaron returned to the squad to start preparing for the Investec Tri Nations match against South Africa on July 10 in Auckland.

And while the locals had fun taking on the All Blacks at the challenges and getting autographs, MasterCard cardholders were given the opportunity to compete in the 'Priceless promotion' where their All Blacks knowledge was put to the test to win tickets to the All Blacks versus South Africa Investec Tri Nations test in Wellington on July 17.

The MasterCard All Blacks Roadshow is making its last stop in the North Island this Sunday 11th July, before moving on to travel the South Island from July 25 through to August 8. Check out www.mastercardroadshow.co.nz for more information.