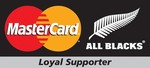 The MasterCard All Blacks Roadshow has hit the halfway mark, with the local communities leading 2 -1 in the community challenge series.

The All Blacks reversed their losing streak at the third event in Waipu on July 11th, where they took on kilted locals at the famous Highland Games' caber toss event.

It was the first MasterCard Roadshow for Dan Carter, Ma'a Nonu and Tony Woodcock, but they embraced the rugby challenges and threw themselves into the day with the same vigour they displayed in their successful game against the Springboks at Eden Park the night prior.

All Black Dan Carter said that despite the bumps and bruises from the game the night before, he was up for the challenges and to try his hand at the caber toss.

"Watching the locals show us how it's done was a bit nerve racking. After a few attempts, I think I got the knack of it and was pretty chuffed with my throws."

"It's very different from the traditional rugby training we do, but Woodie, Nonu and I had a good laugh attempting the caber toss. I'm not sure if the kilts helped with our technique or not. We were very happy to win the community challenge though and finally put the All Blacks on the score board."

Waipu attracted a huge crowd with locals donning kilts, orange wigs and high spirits after their successful Tartan Week - celebrating all things Scottish.

Top 4 Caber Toss throws on the day:

1. Grant Kilmore
2. Chris Palmer
3. Cameron Tapper
4. Clint McCarthy

All four locals scored a perfect "12 o'clock" so former All Black, Josh Kronfield who was also there on the day, stepped in and joined the three All Blacks to help even up the numbers.

Pat Hellier, who has won the New Zealand Highland Heavyweight Championships the last 14-years in a row and is going for a 15th title this year, enjoyed the day and was impressed with the All Blacks efforts in the community challenge.

"We thought we'd help the boys out a bit and gave them a gum-based paste for their hands to provide a better grip of the caber when tossing it - it works a treat, but isn't the easiest stuff to get off!

"The caber toss takes a combination of strength and skill which I think the boys in black mastered by their last turn, where they beat the locals by 1 degree. So a very close win indeed."

The All Blacks have attempted wood sawing, gumboot throwing and caber tossing in North Island, and now they are off to the South Island to take on the locals at curling, coal shoveling and waiter racing in much harsher weather conditions - good luck boys!

Check out www.mastercardroadshow.co.nz for more information.