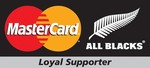 It's a business, it's a sport, it's their heritage, and it's their livelihoods.
For people like Brian Coghlan, a local from a proud lineage of Reefton miners, coal shovelling is more than just a game; it's an iconic West Coast tradition. It runs in his veins, and is something he's very good at – his Guinness World Record proves this to be true.
Pair this stand-out bloke with local rugby legend, Richard Banks, bring together a whole town full of burly men ready to take on the All Blacks, and the talented rugby players had their work cut out for them when they rolled into Reefton. They were there to take on the locals at coal shovelling for the MasterCard All Blacks Roadshow.
The All Blacks had been smashed by the locals during the gumboot challenge at the Taihape MasterCard Roadshow, and narrowly avoided defeat during the caber toss in Waipu. It was now up to All Blacks Wyatt Crockett, Andy Ellis and Adam Thomson to face the Reefton locals. Armed with intrinsic local skill and impressive mining CV's, the Reefton miners seemed set to win, if for no other reason than a rite of passage.
Not letting this deter them, All Black Adam Thomson and rugby legend Buck Shelford, took the mark, shovels in hand, in a showdown of sheer strength and speed.
It was a victorious attempt.
Clocking in with a time of 20 seconds, Adam and Buck may not have set any records, but they still topped the table to win the local challenge.
"We were already one down against the locals in the community challenges, and knew this was our chance to keep our comeback going. We were up against some tough competition – they didn't make it easy," said Adam.
Team mates Andy Ellis and Wyatt Crockett also put their hours of strenuous rugby training to good use, coming in second with a time of 21 seconds. Feeling a little confident after his win, Crocket then dropped Ellis to fly solo in a single shoveler attempt. He didn't fare too badly either, coming in coal-free at 35 seconds.
But despite their popularity with the 1000 or so West Coasters at the event, it wasn't all about the All Blacks. Even though the locals didn't reign supreme at the top of the table, they weren't far behind. Adam Booth and James Chandler led the locals at 23 seconds, David Lineham & Ethan Keereweer came in at 26 seconds and Sam Langford & Andrew Oliver 29 seconds.
While the local challenge was one of the highlights, the drawcard for many of the locals was simply seeing their All Black heroes in the flesh. The Reefton Junior Rugby team arrived in style (by bus) and a first XV team from Christchurch made sure they stopped by on their way to a game against Greymouth.
MasterCard cardholders were also pretty excited to be given the opportunity to compete in the 'Priceless promotion' where their knowledge of the All Blacks was put to the test to win tickets to the All Blacks versus Australia in Christchurch on 7 August – a game the locals definitely want the All Blacks to take out.
And while the All Blacks turn their focus to the next Tri-Nations challenge this week, The Roadshow heads to Naseby, reuniting with the All Blacks on Sunday 1 August where they will take on the locals at curling. Will the local community or the All Blacks triumph?
Check out www.mastercardroadshow.co.nz for more information.