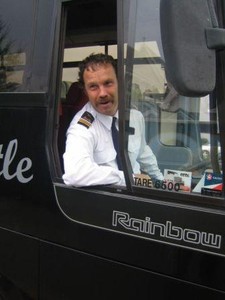 West Coast Shuttle
Business // News // West Coast
Member since: 26 April 2009
Profile views: 4265
Cedric and Marlene Trounson own and operate West Coast Shuttle which operates a daily passenger transport service from Greymouth to Christchurch.
Our services feature reclining seats with pillows, Bottled water and snack packs are available, an on-board toilet, DVD available to promote other NewZealand features.
web site www.westcoastshuttle.co.nz
telephone 64 3 768 0028
Cell phone 0274927000
fax 64 3 768 0328
email travel@westcoastcoastshuttle.co.nz
Photos (2)
News (6)
Wednesday, 15 June 2011
1:35PM
West Coast Shuttle are finalists in Leading light Awards
272 views
Monday, 30 August 2010
5:07PM
West Coast Shuttle winners in 'Tourism Services' catagory at the second Tourism West Coast Awards
Media release courtacy Tourism West Coast The West Coast Tourism Awards gala dinner was held at Shantytown on Saturday night, 28 August where the winners across the 6 categories were announced.
421 views
Monday, 24 May 2010
8:25AM
Preparation well underway for winter driving
Preparation is well underway by transport operators and road contractors to ensure that the roads are open and safe to drive on during the comming months.
394 views
Tuesday, 16 February 2010
6:50AM
Well Done Coast to Coast event organisers
I would like to congratulate the organizers, competitors and supporters for the care they have demonstrated for the entire site including roadside, camps and courteous behavior.
638 views
Friday, 9 October 2009
6:51AM
Snow on Canterbury passes
327 views
Friday, 25 September 2009
6:45AM
West Coast Dancing Competions
Greymouth Competition Society The Committee is all organized, the cups and trophies are polished and the dancers are practicing hard at last minute dance lessons for the 95th Annual Festival of Dance to be held from 8.30 a.m.
987 views