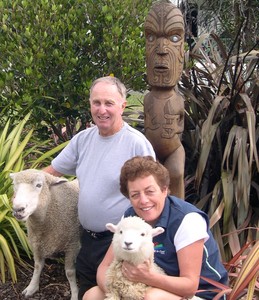 Coast to Coast Tours
Business // Tourism // Auckland
Member since: 26 August 2009
Profile views: 4151
'Coast to Coast Tours' is Tripadvisor's Highly rated Auckland attraction. Winners of Tripadvisor 2011 -and- 2012 Certificate of Excellence Awards. Get 10% DISCOUNT!! (when BOOK DIRECT & pay cash) www.coast2coastnz.com
ALL INCLUSIVE…this personalised, small group 'true' ECO-tour (comprising the Nature, Culture, Environmental & Conservation elements in TIES criteria), is owned and operated by New Zealand and Maori hosts.

We take you out of the city to explore the West Auckland region where our family has lived since 1922. We ONLY operate in the area we live, so profits are directed back into our community.
Enjoy AUTHENTIC EXPERIENCES (with very little travelling!) that include;
lunch, (with wine/beer at an upmarket cafe),
Waitakere rainforest, (a guided tour of Arataki Information Centre),
craft-shopping, (100% NZ products),
wine tasting, (at an award winning winery),
honey sampling, (at BeesOnline),
gannet (sea-bird) colony,
Muriwai beach, (black iron-sands),
visit to our SHEEP FARM,
Maori greeting into our historic Homestead,
overview of Maori culture,
hands-on animal experience,
see a real woolshed,
and afternoon tea inside our typical NZ family home.
…yes! ALL that in ONE day!!
We also have a 'unique-to-Auckland' TREE PLANTING project inwhich we plant a tree to offset this tour's emissions for every tour run. Native tree - (certificates issued, trees tagged and protected by New Zealand Government Law, forever), are planted on our own farm's Carbon Credit Reserve.
SHORE EXCURSIONS (or Group Tours) are available, and can include an informative 'Kiwiana-themed' lamb roast/BBQ lunch at our farm (24 pax maximum, bookings essential).
We have been operating since 2002, and hold all operating licences (including food handling certificate).
Compare our itinerary, genuine experiences AND price, …you'll not find better value for your money...guaranteed!
and PS, ...we are NOT the commercialised 'Coast to Coast' or 'Auckland Countryside Experience' shore excursion option, listed on the major cruise line websites!
Photos (40)
News (8)
Friday, 1 March 2013
8:37AM
Auckland Tours: scene for Kiwibank New Zealander of the year 2013
Auckland's Coast to Coast Tours historic sheep farm was scene for the 2013 Kiwibank New Zealander of the year.
234 views
Wednesday, 7 November 2012
11:51PM
WTM World Responsible Tourism Day
Coast to Coast Tours has recently been selected as an approved official supporter of WTM World Responsible Tourism Day, and means we are also eligible to display the exclusive WTM World Responsible Tourism logo.
333 views
Monday, 6 December 2010
3:18PM
Abandoned Eggs at Muriwai Gannet Colony, West Auckland
The Muriwai beach gannets are abandoning their eggs.
532 views
Monday, 22 March 2010
12:24AM
You need to know this law
Soon, a South Pacific country will be hosting a major world sports game....but I am NOT allowed to mention even a snip of information, because the rights to do so are very heavily protected!
943 views
Sunday, 18 October 2009
2:11PM
Carbon-neutral Shore Excursion tour for these lucky Star Princess passengers
A group of American & Canadian cruise boat passengers off the Star Princess offset their Shore Excursion carbon emissions during the 'Coast to Coast Eco-tour' Auckland tours on Friday.
796 views
Saturday, 17 October 2009
3:48PM
Hon. John Key opens Kumeu Visitor Information Centre
On Friday 16 October 2009, a group of American and Canadian tourists from the luxury Cruise Liner Star Princess, travelling on Aucklands Coast to Coast Eco-tour attended the official opening of the new Kumeu Visitor Information Centre by the Prime Minister, Minister of Tourism, John Key.
989 views
Monday, 28 September 2009
12:33AM
Manaakitanga Awards - FINALISTS
The Auckland tours company 'Coast to Coast Tours', has recently been announced a finalist in this year's Manaakitanga [Hospitality] Awards.
533 views
Wednesday, 16 September 2009
12:15AM
Carbon Credit Trees Planted On Aucklands Eco-tour Farm
A Native Tree is assigned for every tour done to offset the days tour emissions. This s planted in the Coast to Coast Tours Government Registered Carbon Sink-Tank Forest Reserve on their own farm.
2208 views