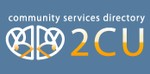 2CU Ltd
Business // Community // New Zealand
Member since: 28 January 2010
Profile views: 4129
2CU is an online services directory working in collaboration with the NZ Communities Web Enhancement Trust. The Trusts aim is to give EVERY service in New Zealand high profile web presence FREE. This means that every service will have a local community presence within a national community database and each service can be found easily and quickly. The Trust is working closely with Local and Central Government departments to achieve its aims. 2CU is the one place where you will be led easily to the service you want where you want it.
Photos (2)
News (5)
Saturday, 13 November 2010
7:46AM
2CU part of the Earthquake recovery
canterburyearthquake.govt.nz is using the 2CU website to allow retailers to let the Christchurch people know about changes to service data.
282 views
7:34AM
2CU grows by 20% per week
New Zealanders are voting with their digital footprints by choosing 2CU as the place to find services.
250 views
Monday, 22 February 2010
9:23PM
NZ MTB Elite Women's Champ - Eloise Fry
687 views
5:19PM
Latest in website development - instantedit.co.nz
What you always wanted in a website: No software to download Edit anywhere anytime -it's easy Edit realtime and publish immediately A $6,000.00 website for as little as $2,000.00 No hidden costs Visit  http://instant-edit.co.nz  and listen to Sally's story.
372 views
Friday, 29 January 2010
10:42AM
2CU partnership with Whangarei District Council
2cu.co.nz provides a platform for all online community service data to be managed in such a way that the Council saves money as well as shifting responsibility for updating that data to the owner of that data.
401 views