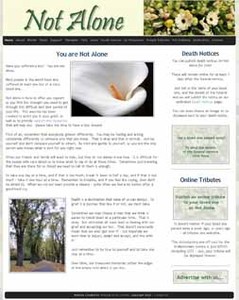 Not Alone
Business // Internet // New Zealand
Member since: 22 September 2010
Profile views: 1703
Not Alone offers support and resources for those who have suffered a bereavement. If you have suffered a loss and need help with dealing with grief, Not Alone can assist.

The Not Alone website includes:
Ideas for readings and music for funeral services.
Community forum for people to connect with others who have also suffered a loss.
Support and Resources to assist you throughout your grieving process.
In Memoriam section - tributes to your loved ones (incl pets).
Death Notices
Book Reviews

Not Alone is a constant work in progress, pages are being added regularly and new additions are announced in the News section.
IN MEMORIAM - ONLINE TRIBUTES

Want to publish an online tribute? It doesn't matter if your loved one passed away a week ago, or years ago - all tributes are welcome, and will be displayed on the In Memoriam pages on Not Alone.

Include as much or as little information as you would like.....
Things you may consider including:
Loved Ones Name
Dates of Birth and Death
Place of Birth, Residence and Death
Relationship to you
Summary of their life
Photo of your loved one
Your Name

Respectful and appropriate comments from others pertaining to your tribute may be accepted and are absolutely free!

The introductory one off cost for the In Memoriam service is just $10 (including GST) - plus, your tribute will be displayed forever....

Go to our In Memoriam Page
At www.notalone.co.nz you can publish death notices online for FREE.

These will appear in our News Section and will remain online for at least 7 days after the funeral service.

Just tell us the name of your loved one, and the funeral details and we will publish the details. You can even choose an image to be displayed next to your death notice. It is suggested that you follow the usual newspaper death notice format.

Go to our Death Notices Page.
If you have any queries, please contact us on info@notalone.co.nz
Photos (0)