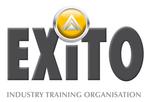 EXITO
Business // Education // Christchurch
Member since: 16 February 2011
Profile views: 5164
The Extractive Industries Training Organisation (EXITO) is one of New Zealand's Industry Training Organisations (ITOs). Initially responsible for the extractive industries (quarrying and mining), we now work with seven different industry sectors:

Drilling
Energy & Chemical Plant
Extractive
Gas
Petrochemical
Protective Coatings
Resource Recovery
Our main goal is to help companies achieve greater productivity through the ongoing development of employee skills in the workplace. We currently help more than 2000 people each year in our key industries to gain the knowledge and skills they need to make a positive contribution to their company's performance in terms of productivity, profitability and health & safety performance.

For further information visit our website at www.exito.org.nz or email info@exito.org.nz
Photos (4)
News (4)
Wednesday, 10 October 2012
5:31PM
Webforge - Overwhelming Success in Galvanizing
Webforge is a specialised manufacturer of metal flooring and allied products, which operates throughout Australasia.
425 views
Wednesday, 19 September 2012
12:11PM
A Golden Day for Golden Bay
16 employees at Golden Bay Cement have been presented with their National Certificates in Extractive Industries by the Minister of Energy and Resources, Hon Phil Heatley.
423 views
Friday, 28 October 2011
4:53PM
Rudolphs – 80% staff qualified in blaster coating
Friday 28 October 2011 8 staff at Rudolphs Ltd in Whangarei were thrilled to have the Mayor of Whangarei, Morris Cutforth, present their National Certificate in Blaster Coating Level 2.
290 views
Thursday, 17 February 2011
9:08AM
On-job training winning formula for Living Earth
A commitment to on-job training has proved to be a winning formula for Living Earth, Christchurch's state of the art composting facility, with the first ever presentation of the National Certificate in Composting.
662 views