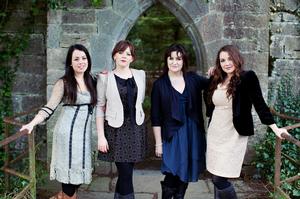 Noriana Kennedy
Individual // Entertainment // New Zealand
Member since: 16 April 2012
Profile views: 1600
Four of Ireland's most prominent folk singers are heading to Australasia for what promises to be an unforgettable musical experience.
Lumiere is a duo from Dingle, in West Kerry, featuring Pauline Scanlon and Éilís Kennedy. These two singers have amassed a huge song collection from their families and the rich traditions of their homeland - steeped in history and the Irish language. In a singing style that is rare and unique, Lumiere takes something that is age old and re-imagines it simply and beautifully. Since joining forces with legendary producer John Reynolds (Sinead O Connor and U2), Lumiere has been enjoying critical acclaim all over the globe, and now bring their gift of storytelling in song and on stage to New Zealand.
Nicola Joyce, best known as the lead singer of Gráda, has released two critically acclaimed albums to date. The latest, Natural Angle, was recorded with Grammy award-winning icon and producer, Tim O'Brien, and was named by USA's National Public Radio as one of the Top 5 Folk Albums of 2010. Having toured extensively over 25 countries in the last six years, Nicola has earned her prominent place in a new generation of Irish folk singers.
Noriana Kennedy, from Dublin, presents a songbook stretching generations and diverse genres. Likened by many to a young Mary Black, she has the gift of being able to touch the listener through understatement and simplicity. Her debut album Ebb n Flow gained her international recognition and marks the first assured steps into what promises to be a long journey.
Coming together for the first time as the Celtic Divas, these four singers have a bond, a charm and a beauty that is unmatched and unmistakably Irish! Backed by an impressive band in its own right, this collaboration is especially exciting.
Photos (0)