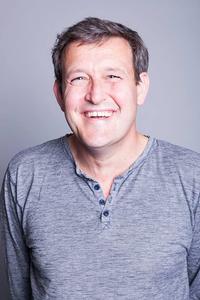 Karmic Salesman
Business // Media // New Zealand
Member since: 24 March 2014
Profile views: 995
Hal Woolfrey, raised in Kenya, Greece, Spain, and the UK, followed his father into the world of Marketing. Hal didn't know why he did his first sales course at the tender age of 15, but believes that it was because he needed to work his way through college, everything happens for a reason and it definitely helped when selling products door to door.
While living in the United Kingdom, Hal moved into graphic design and account management for a sales presentation company, here he dabbled in freelance journalism and then became involved in multimedia as floppy discs changed from 5¼" to 3½" this technology was advanced for the time, too advanced for the UK and Hal moved to Silicon Valley in California to be presented an even greater opportunity, a network troubleshooting company called Bay Information Systems.
Based in Palo Alto and Menlo Park, Hal was immersed into the world of computer networks and more importantly technical sales and the newly blossoming World Wide Web, his most important work involved benchmarking the technology for the court case between Western Digital and Amstrad Computers, in America Hal noticed the potential power of advertising on the internet whilst working with AT&T in 1996 when they released the first 'banner Ad'.
Hal returned to the UK after four years and became involved in a research project for Transco who were developing network validation, after this contract ended he moved out to New Zealand and developed his sales career rolling out solution sales with Jason Jennings and Jim Harris for The Radio Network.
Hal developed a deeper understanding of the marketing and the sales relationship with a special emphasis on Integrated Brand Promotion now known as IBP in which the internet was developed as a point of contact for measuring promotional spend.
Hal joined forces with an old friend and made his move into SEO, Social Media and PPC/Ad words for the Google Partner Dori Media in the Waikato in New Zealand.
Hal is a keen musician, writer and cyclist, he now lives between Europe and Australasia with his childhood sweetheart and their 6 kids... Yes they have twins!
Photos (0)