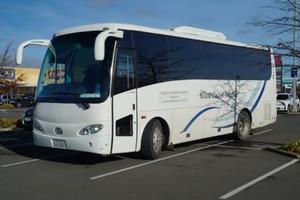 West Coast Shuttle
Business // News // Greymouth
Member since: 30 July 2014
Profile views: 2016
West Coast Shuttle offers the highest level of comfort that can be provided by any service coach in NZ. lots of leg room, reclining seats, pillows for every seat, blankets available, bottled water, snack packs, onboard toilet, even complimentary tea or coffee.
greymouth to Christchurch daily leaving 7.45 regent theatre Greymouth, travels via Kumara Junction and Arthur's Pass, dropping off at the Ch-ch airport around 11.15, riccarton Mall, and central bus exchange 11.15
departs platform 'L', lichfield St. Departs Platform 'L' at 2.15, riccarton mall 2.20, airport 2.45 drop off Arthur's pass 16.45 and Greymouth 6.15.
Available for tours or charter anywhere in the south island Star graded coach (4+ stars)
Photos (5)
News (4)
Monday, 8 June 2015
1:59PM
New Arrival and departure place for West Coast Shuttle
437 views
Tuesday, 19 May 2015
9:01AM
More than Just a Shuttle
West Coast Shuttle, who operate a daily service from Greymouth to Christchurch return are also available for tours and Charter work anywhere in the South Island.
300 views
Wednesday, 18 March 2015
12:38PM
Seats available on 6 day tour of South Island
Day 1; Departing on 20th April this tour will leave Greymouth and travel via the West Coast to Queenstown, Day 2; visit Walter Peak Station for a barbecue lunch and travel on the TSS Earnslaw.
277 views
Thursday, 6 November 2014
7:17AM
South Island Tour with West Coast Shuttle
20 – 26th April 2015 Tour to Fiordland and Stewart Island with West Coast Shuttle     Tour is Greymouth to Greymouth               Seven day tour staying at 3 and 4 star hotels.
607 views