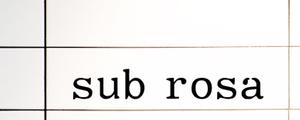 Sub Rosa Cafe and Function Venue
Business // Business // Auckland City
Member since: 23 November 2014
Profile views: 1756
Located in the Auckland Viaduct, Sub Rosa is an up-market licensed café and private functions and events venue that can cater for groups of 20 upwards. Make Sub Rosa the choice for your next private function or event in the Auckland CBD. From 20-250 people, we can cater to your needs.
Photos (0)
News (2)
Saturday, 13 December 2014
11:28PM
Time to Celebrate Your New Year's Resolutions!
With the ending of the current year and the approach of the new, many people reflect on what changes they want to make for the New Year.
561 views
Monday, 24 November 2014
1:49AM
Venue Essential to Corporate Christmas Party Success
Christmas means different things to different people but to many it means the end-of- year party! If you're involved in running a business, then saying thank you to your staff, your clients and your suppliers is a natural and sensible thing to do.
368 views