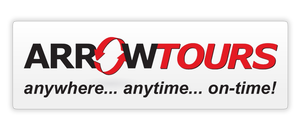 Arrow Tours
Business // Tourism // Tauranga
Member since: 17 June 2015
Profile views: 994
If you think you're quite ready for another adventure, look no further than Arrow Tours. Operating in the gorgeous Bay of Plenty, we offer cruise ship shore excursions and guided tours of some of New Zealand's most captivating locations including Rotorua, Matamata (Hobbiton), Tauranga and Mount Maunganui.
If you're a film buff, there's no doubt you'll be interested in our Hobbiton Tours, taking you out to gorgeous Matamata and the very location - and set - that Peter Jackson used in his blockbuster films The Lord of the Rings and The Hobbit.
Have a taste for fine food and drink? Then our Tauranga and Rotorua tours are for you, where you'll take in the gorgeous scenery while tasting some of New Zealand's finest produce including Kiwi Fruit, Manuka Honey and some of our finest wines.
Interested in our past as well as our present? Then our Rotorua Tours are for you, where we'll teach you the history of the Maori people while you take in our world famous geysers and cultural performances.
Looking for something else entirely? We have customised tour packages to suit you and your group's needs, all personally guided from the comfort of our luxurious 11 seater mini-vans. With complimentary drinks, snacks and wi-fi! A corporate group, or planning a private function? We've got you covered too! And with cruise ship shore excursions starting from just $79, there's no one better placed to show you New Zealand than Arrow Tours.
Address:
30B Domain Road, Papamoa Beach
Tauranga
Bay of Plenty 3118
Phone:
+64 (0)508 42 7769
Fax:
+64 (0)27 449 3293
Email:
roger [at] arrowtours [dot] co [dot] nz
Photos (0)