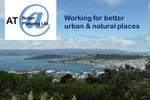 AT Better Planning Ltd
Business // Building // Wellington
Member since: 15 August 2017
Profile views: 838
Town Planning professional with 15+ years of experience. Provide advice on resource consents and changes to local planning documents (District Plans and Regional Plans). Whether you want to apply for or comment on one. I also undertake research and analysis, such as the investigation of the planning history of a property or how a particular type of development is treated by 1 or more Councils.
Do you need a local person you can trust to provide advice on whether you need a resource consent, and if so, how you should go about it? Alternatively, you may want to find out how a proposed plan change or other Council strategy (e.g. Land Use Strategy) could affect your property or business.
I am a full member of the New Zealand Planning Institute and have previously been employed by Councils in the Wellington region. See the website or contact me for more information.
Small and larger jobs welcome.
Photos (0)