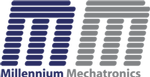 Meltrons
Business // Business // New Zealand
Member since: 9 September 2017
Profile views: 866
Meltrons - Scales & Weighing Solutions For New Zealand Industries
Meltrons is New Zealand's leading supplier of weighing solutions, with over 25 years of experience in the design, development, manufacturing, and quality control of regular and trade approved weighing scales, electronics, and load cells.
We have quality weighing solutions for almost any industry, saving you time and money. Do you operate a supermarket, deli, or other business within the food industry? Our food and labelling scales make light work of price-per-weight, portioning, and labeling tasks.
A livestock owner or veterinarian? Our animal scales ensure you can monitor the health and weight of animals large or small. This is all in addition to our other ranges including bench scales, counting scales, load cells, and precision balance scales.
If you can't find what you're looking for, simply get in touch and we'll put our paramount customer service and skills to use to design and develop a custom-built solution that delivers a superior value for all your weighing & force testing needs. All backed by our warranties, for your peace of mind. After all, our mission is to deliver quality weighing and scale products at affordable prices for Kiwi businesses.
Interested? Just visit our website, email us, or call us now on 09 622 0808 or 0800 MELTRONS.
Some Of Meltrons' Leading Products & Solutions Include:
Meltrons' Digital & Electronic Scales
Find Meltrons in New Zealand!
55F Richard Pearse Drive
Airport Oaks
Manukau
Auckland 2022
New Zealand
PO Box 59187
Mangere
Auckland 2151
New Zealand
Photos (0)