ENVIRONMENT
25 September 2011, 6:09PM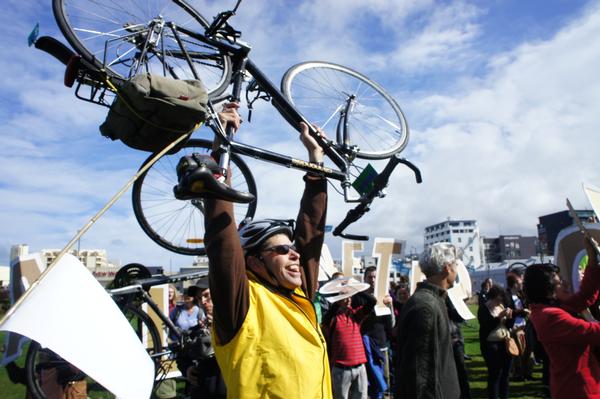 Hundreds join in Wellington Moving Planet
Four hundred Wellingtonians rode bicycles and walked to Waitangi Park on Saturday, to join the global day of climate action, Moving Planet - A day to move beyond fossil fuels. The crowd gathered for the launch of a petition calling on the New Zealand Government "to make a rapid transition away from fossil fuels to a renewable, clean energy future." Joining thousands of events around the world in more than 175 countries, Wellington's event contained a unique twist, with a theatrical inter-planetary space rocket launch. The 3 metre tall space rocket, constructed of chicken wire and duct tape, encountered overwhelming technical issues and high winds and failed to launch.

350 Aotearoa spokesperson Aaron Packard explained the message behind the space rocket launch - "While the notion behind the global Moving Planet event is to get people moving on bikes and on foot in the call to leaders to start moving beyond fossil fuels, here in Wellington we took the theme a bit literally. We used the rocket launch to highlight in a fun way that actually moving planet is an absurd notion and most of us are here to stay on planet Earth. That means we must deal with the causes of climate change, so following the failed launch of the rocket, we swiftly implemented plan B for folks staying on Earth – the 'Renewable Race".

As part of the Renewable Race people cycled and walked around a series of checkpoints in the city centre offering activities including test-riding an electric bicycle or car, free bike fix-ups, and tasting sustainable wines at Logan Brown restaurant.

"We not only called on local leaders to take action, but joined hundreds of thousands around the world in demanding that leaders move the planet beyond its addiction to fossil fuels. That's not easy, but it has never been more urgent as climate change is literally knocking on our door. Thankfully the world is already blessed with many renewable energy solutions - some of which we showcased today in the renewable race.

We'll be taking this petition and momentum into campaigning for greater action from political parties as the upcoming election approaches" said Packard.

Moving Planet events and rallies were held in over 35 locations across every region of New Zealand. Photographs from around the world will be shown outside the UN in New York. The petition can be viewed and signed by visiting www.350.org.nz.

Moving Planet was organised around New Zealand by 350 Aotearoa in collaboration with a host of other organisations including Generation Zero, Unicef, The Coal Action Network, Cycle Advocacy Network, WWF New Zealand and more. 350 represents 350ppm (parts per million), the maximum safe concentration of CO2 in the atmosphere. We're at 392ppm and rising, which is why 350 Aotearoa works with communities, government and businesses to inspire solutions to bring us back to the safe zone.
#END#

For more information on Moving Planet or access to other hi-res photos of the day, please contact Julia Capon on 021 157 4826.