MAORI
1 March 2012, 12:00PM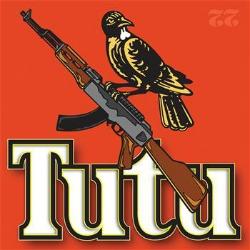 Yeah Right by Otis Frizzell & Mike Weston
In this artwork Mike Weston and Otis Frizzell present their version of Tui's iconic ad, substituting an AK47 assault rifle for the usual perch branch. In Yeah Right, Tutu replaces both the Tui Beer branding, and also the social statement that is usually featured in the Tui beer billboard.

Dr Tutu is the name Tame Iti adopted when DJing on his various alternative radio slots.
The message it conveys relates directly to the arrest of Tame Iti and other Tuhoe members under the terrorism suppression act. If it were spelled out it might read: "A terrorist revolution? Yeah, right." Yeah Right is a fine art archival inkjet print on Hahnemule 100% cotton rag paper, edition of 180 - learn more about the print here.
Learn more about Weston Frizzell's response to the trial of the Urewera 4 here:
http://blog.prints.co.nz/2012/02/weston-frizzell-ask-who-are-real.html