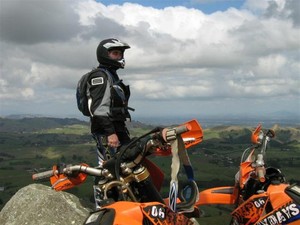 Over The Top Adventures Limited
Business // News // New Zealand
Member since: 15 August 2009
Profile views: 5000
Poke the boring people with a big stick and then run away laughing!
Over The Top is about fun, and finding out a little about yourself and your mates.
Book a tour with us and you will discover how to hold a weta, what mud tastes like and where to find furkles!
Photos (13)
News (10)
Thursday, 1 July 2010
10:19AM
Chris Birch Wins Red Bull Romaniacs!
Chris Birch arrives only a few minutes behind of Jarvis - and wins the Red Bull Romaniacs for the first time in his career! The blazingly fast New Zealander didn't go for safety on this last stage - in fact, Birch even rode 6 minutes faster than Graham Jarvis on the last 126 km of this years Romaniacs and secured his first ever win at the world's toughest Enduro Rallye.
785 views
8:48AM
NZs Chris Birch leads 'toughest race in the world'
On day four of this epic race, the rain is not only a constant companion but has become the dominating factor of the Red Bull Romaniacs 2010.
671 views
Thursday, 24 June 2010
5:20PM
Taniwha sighted in Coromandel hills
"I was standing in this creek bed and It just swept past me and climbed that slippery clay bank and dissapeared over the top of that hill"
2481 views
Sunday, 27 December 2009
10:59AM
60 whales beached at Colville
60 whales beached at colville! if you can help, we need people to keep them wet untill tide returns.
1881 views
Saturday, 19 December 2009
2:06PM
ANACONDA races toward New Zealand
Australia's premier adventure racing events – the Anaconda Adventure Race – has crossed the Tasman and in 2010 will include a new and equally exciting event at Waihi in the New Zealand North Island, giving you the Anaconda Adventure Race New Zealand (AARNZ).
1268 views
Tuesday, 1 December 2009
9:26PM
Adventure Company In Top Gear for video
Southern Coromandel adventure tourism company, Over The Top Adventures Limited have recently been featured in an international tourism promotion designed to attract visitors to New Zealand's top regional attractions during the upcoming Rugby World Cup in 2011.
878 views
7:45PM
Aucklands Chris Birch wins Roof of Africa extreme enduro race
The 2009  Roof of Africa Hard Enduro saw a tough battle for the win with Red Bull's New Zealand rider Chris Birch taking the flag.
2021 views
Wednesday, 26 August 2009
9:57AM
$20 million Tourism Centre for Waihi
New Zealand is to get a $20 million gold discovery centre designed to attract additional tourist spending and provide a mid-way stopover between the visitor hot points of Auckland and Rotorua.
1199 views
9:19AM
Council Upbeat over Hauraki Rail Trail Cycleway
The Prime Minister's recent announcement that the Hauraki Plains Trail is one of the 7 quick starts for the National Cycleway project is excellent news and some of the more positive for the Hauraki District in recent times.
959 views
Sunday, 16 August 2009
1:18PM
On Track for summer
Southern Coromandel adventure tourism operator Over The Top Adventures Limited, has announced its new offshoot – Cycle Escapes.
945 views