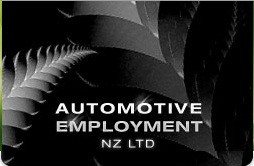 Automotive Employment NZ Ltd
Business // Employment // New Zealand
Member since: 25 January 2011
Profile views: 2320
The Automotive Employment NZ team warmly welcomes you. It is our pledge you will find our team honest, friendly, approachable hardworking, efficient and passionate about our work. Our people are genuinely decent and have been selected foremost with this in mind. We have forged a reputation in the New Zealand market place that has taken a long time to achieve and strive hard every day to be the best we can be.

Automotive Employment NZ Ltd is a specialist motor industry recruitment company. We find quality candidates for our clients and quality positions for job seekers. We service the following sectors of the New Zealand motor industry:

* Automotive
* Heavy Automotive
* Heavy Equipment
* Forklifts
* Farm Machinery
* Marine
* National distributors in the motor industry

New Zealand's most experienced automotive recruiter is the founder of the company and has been involved in this industry as a director since 1991.

Visit our website for NZ Automotive job listings and more details or call us on +64 9 271 3200 for consultation.
Photos (0)