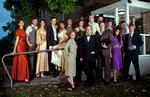 The Outfit Theatre Company
Business // Entertainment // Auckland
Member since: 26 March 2011
Profile views: 3262
The Outfit Theatre Company are an Auckland-based, resident-ensemble theatre company made up of over 25 professional actors who produce audacious, entertaining and accessible theatre. Since forming in 2007, The Outfit Theatre Co. have produced 12 successful shows to date with the mission to be a "loyal ensemble that forge explosive theatre for hungry audiences".
Check out our website to find out more about us and our upcoming shows. www.outfittheatre.co.nz
Photos (11)
News (7)
Sunday, 23 September 2012
11:32PM
A cheeky peek under the sheets ...
135 views
Friday, 15 June 2012
5:54PM
Talented team take on timeless classic
Around this time every year the award-winning team at The Outfit Theatre Company turn their attention from grown-up adult theatre to their annual family adventure adaptation.
234 views
Monday, 7 May 2012
3:28PM
Outfit Theatre bring new play to the boil.
'Course Related Costs' is a pitch-black new comedy presented by The Outfit Theatre Company, as a part of their annual Factory Floor development season, and it's set to takeover The Basement Studio at the end of the May.
174 views
Tuesday, 13 March 2012
11:57AM
Exciting young talent tackle cracking new British play.
An exciting cast of the young and the talented is hitting The Basement at the end of March for the NZ Premiere of British playwright Simon Stephens "cracking new play" (The Times, UK), 'Punk Rock'.
560 views
Friday, 4 November 2011
1:29PM
A Christmas show so funny it could be criminal.
183 views
Friday, 15 July 2011
12:51PM
Adult-Friendly Kids' Theatre
The Outfit Theatre Company don't just make kids' theatre, they make family theatre: shows for the entire family.
278 views
Saturday, 26 March 2011
1:35AM
Bright young things the ones to watch.
The Outfit Theatre Company present the NZ Premiere of Boys' Life by Howard Korder A "bitingly funny post-modern comedy of manners" The Outfit Theatre Company are being touted by many as 'the ones to watch' on the Auckland theatre scene.
428 views