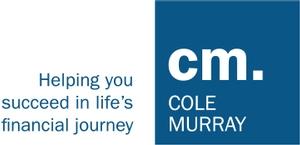 Cole Murray Group Ltd
Business // Finance // Hawke's Bay
Member since: 10 August 2016
Profile views: 1163
Cole Murray offer a comprehensive range of financial services covering your total life journey - from financial planning to mortgages, insurance to investment advice, as well as retirement planning and KiwiSaver.
As one of Hawke's Bay's leading Financial Advisors, we look at the whole picture - we understand how the different parts work together, allowing us to provide advice and opportunities based on ALL your individual financial needs and goals.
Contact Us
p. +64 6 870 7050
Cole Murray Group Ltd
310 Avenue Road, East
PO Box 12
Hastings 4156
New Zealand
Photos (3)
News (5)
Tuesday, 20 December 2016
11:35AM
Mortgage rates are on the rise! Here's what you need to know.
Up until recently, fixed-term mortgage rates in New Zealand were at record lows.
534 views
Wednesday, 7 December 2016
3:18PM
Retirement not just a case of set & forget: study shows
376 views
3:14PM
Cole Murray Insurance Adviser among top 3% in NZ
One of Cole Murray's insurance advisers, Roseann McConnel, has received a Silver Advisers Institute award, making it her fifth award in four years.
472 views
Wednesday, 16 November 2016
3:29PM
Hawkes Bay financial services firm wins national KiwiSaver award for eighth consecutive year!
For the eighth year, Cole Murray has won the Booster KiwiSaver Practice of the Year award, proving again that regional financial services firms are punching above their weight on the national stage.
440 views
Wednesday, 10 August 2016
2:49PM
Helping to get Kiwis on the right financial path
Cole Murray launches Hawke's Bay's first complete financial planning service! Hawke's Bay's first complete financial planning service has been launched by Cole Murray, providing Kiwis with a 'fiscal compass' to increase their financial literacy.
422 views