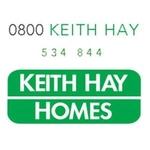 Keith Hay Homes - Henderson
Business // Building // Auckland
Member since: 15 February 2018
Profile views: 788
Keith Hay Homes - Henderson
Keith Hay Homes is a family run business established in 1938. We have built over 22,000 homes nationwide and provide a comprehensive 5 year personal guarantee! With our longevity and experience, you can trust us to deliver your brand new quality home!
We also have prefabricated transportable homes and show homes across the country, that are ready for delivery to your site.
Call us today for property development advise and book a meeting to discuss the best design and plan for your family, investment home, farm building or office building.
Check out www.keithhayhomes.co.nz or call in to visit us to see what we can do for you.
Click HERE for handy property development advice.
Photos (4)