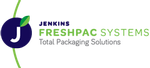 Jenkins Freshpac Systems - Packaging Solutions
Business // Business // New Zealand
Member since: 26 March 2018
Profile views: 645
Jenkins Freshpac Systems manufacture and supply a variety of innovative, cost-effective end-to-end packaging solutions to the Australian and New Zealand horticulture industry, from fruit and vegetable produces through to fresh produce packhouses. We have offices across the country, so we're perfectly placed to meet the highest specifications and standards while providing a level of service and support we're renowned for.
At Jenkins we focus on products that integrate seamlessly with our automation and machinery, with exclusive rights to a number of the packing industry's leading brands and products including Enviro Pac, Sormabag, Sormapac, and Sinclair just to name a few.
Whether you're looking to make a big impression with custom fruit labels, tags, and stickers, speed up the packing process with bin tippers, palletisers, and other automated machinery, or pack effectively into punnets, bags, and clamshells, Jenkins has the products to deliver optimal packing performance.
Interested? You can contact Jenkins via the website, email, or call us on +64 7 5750562.
More Information On Jenkins' Total Produce Packaging Solutions

Physical Address
35 Whiore Avenue
Tauriko, Tauranga 3110
New Zealand
Mailing Address
P.O. Box 9174
Greerton, Tauranga 3142
Contact Us
Email: tauranga@jenkinsfps.co.nz
Phone: +64 7 575 0562
Fax: +64 7 575 0569
Photos (0)