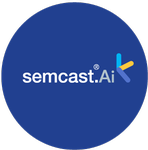 AGM Digital
Business // infonews // Auckland City
Member since: 22 November 2018
Profile views: 408
Leveraging of AI, semcast.ai can solve more complex problems and scenarios with greaterprecision using more data, faster than ever before. With automated processing and theevaluation of data, the platform provides the ability to predict the source of a client's nextcustomer, offering a massive advantage to AGM customers over their competitors. After theunparalleled success of semcast.ai in the New Zealand market, the decision to launch a solution for small to midsize businesses with the sophisticated features of semcast.ai atrelevant price point, introducing SEMCast.lite which is driven by the same powerful AI corebut tailored to meet the requirements of the SME market. SEMCast.lite provides access tothe global leading marketing platform without the minimum agency budgets requirements.
Alexander believes that the real advantage of AI lies not only in substantial ROI increases but also sustaining them in the long term. The primary objective of SEMCast is to deliver high return marketing and achieve targeted ROI for all clients while eliminating the need forlong-term commitments and contracts which lock them in for fixed amounts. "Basically, weback ourselves to deliver on our agreed outcomes and deliver a superior digital marketing service that benefits our customers" says Alexander. With an AI-driven management core,the platform allows clients to continue utilizing SEMCast based on performance, not fine print.
Photos (1)
News (1)
Thursday, 22 November 2018
2:29AM
AGM Digital Top Ai Provider APAC 2018
Semcast.ai offers New Zealand businesses access to global agency- level AI-driven digital marketing.
262 views