EDUCATION
27 July 2012, 12:48AM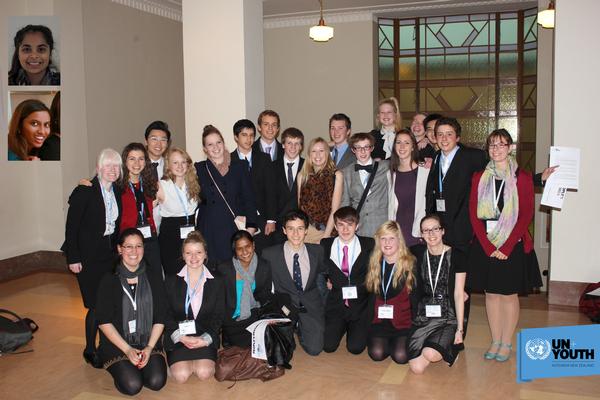 22 Outstanding young NZers chosen to represent New Zealand at The Hague International Model United Nations Conference 2013
THE NEW ZEALAND SCHOOLS' DELEGATION TO THIMUN 2013
From top left: Sharndre Kushor, Naushyn Janah, Keari Harvey, Mattea Mrkusic, Chris Park (Assistant Director), Claire McCorkindale, Brooke Olliver-Burnside, Felix Mouttaki-O'Donnell, Edward Haslam, Ashley Stanley-Ryan, Taylor Mitchell, Joshua Ramsey, Austin O'Brien, Brittany Rea, Nadine Ward, Henry Thompson, Bowen Shi, Sam Brustad, Kirsty Herbert (Assistant Director). From bottom left: Chelcie Lutton (Assistant Director), Hannah Field, Nirusha George, Richard Ngo, Jamie Beaton, Victoria Rea, Sarah Wilson (Head Director).
BACKGROUND
In January 2013, 22 outstanding young New Zealanders who have been chosen to represent New Zealand at the largest and most prestigious Model United Nations conference in the world will set out with their volunteer directors on a three-week whirlwind educational study tour. This tour will canvas world cultural sites, visiting diplomatic missions and immerse the students in the various different cultures of the places they visit across Asia and Europe.
The students, aged between 16 and 18, were selected from across New Zealand to be a part of the prestigious New Zealand delegation, and will be debating a wide range of international issues during the week-long international conference as part of a three week international study tour across Asia and Europe.
MORE INFORMATION
http://www.infonews.co.nz/news.cfm?id=93776