KAYAKING
17 November 2014, 9:44AM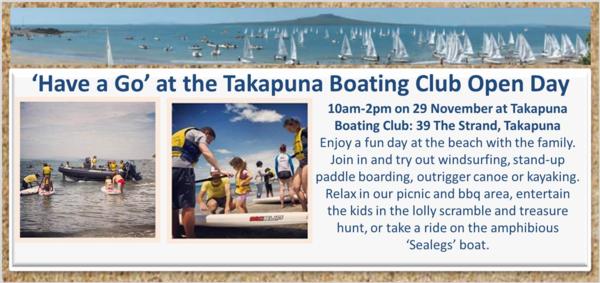 Enjoy A Fun Family Day Out At Takapuna Beach!
'Have A Go' for FREE on a Stand-Up Paddleboard, Try Sailing, Windsurfing, a Kayak or Outrigger Canoe at Takapuna Boating Club's Open Day
Bring your family and friends down to for a day of fun at Takapuna Beach. There will be plenty of entertainment for the whole family including lolly scrambles and treasure hunts for the little kids and a BBQ picnic area set up for the "Big Kids". Take the unique opportunity go for a ride on the amphibious "Sealegs" or just enjoy coffee out on our deck while the kids play in the water.
Our Venue: Takapuna Boating Club, 39 The Strand, Takapuna
Event Times: 10am - 2pm
Explore the club and its many activities. If you'd like to find out more about Social Membership, Sailing, Ocean Kayaking, Outrigger Canoeing or Stand-up Paddle Boarding, visit www.takapunaboating.org.nz.
For more information please contact Ross Blankenaar on 027 502 2770 or manager@takapunaboating.org.nz.
Address: 39 The Strand, Takapuna Auckland
Telephone: +64 (0) 9 4896941