MOTORSPORT
15 February 2007, 2:04PM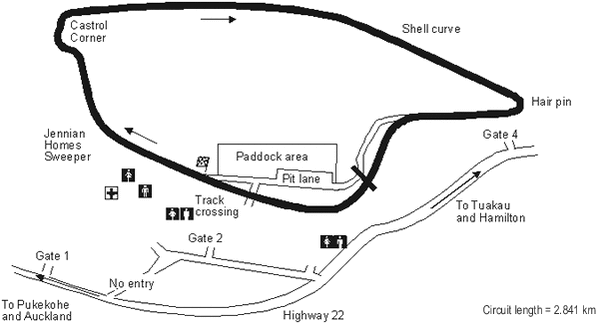 PUKEKOHE PARK RACEWAY
Circuit Owners: Pukekohe Park Limited.
Venue Licence: Course licensed for FIA Grade 3 and National Grade 1.
Maximum Number of Starters: 40 single seaters or closed saloons. Long distance is 46.
Direction of Racing: Clockwise only.
Surface: Hot mix bitumen.
Situation: Borough of Pukekohe (Manukau Road) 45km South of Auckland.
Nearest Major Airport: Auckland International.
Spectator Facilities: Main covered grandstand, with indoor viewing, covered open stand, terraced seating, after-race function rooms, marquee sites - all located with prime viewing.
Electric Power: Is available for teams.
Accommodation: Excellent selection of hotels/motels in Auckland/Papakura and Pukekohe areas.
Contacts:
Venue and Circuit Hire: For inquiries regarding venue and circuit hire, please contact the Manager (Gary Devon):
Postal: Pukekohe Park Limited, PO Box 47, Pukekohe.
Phone: (09) 238 0553, Fax (09) 238 8886, Mobile (029) 496 7759
Website: www.countriesracing.co.nz - click on "Motor Racing"
Controlled Testing Day: Controlled Testing Days are scheduled weekly throughout the year. For dates, see the "Event Calendar" under "Motor Racing" at www.countriesracing.co.nz