NEWS
6 April 2018, 2:39PM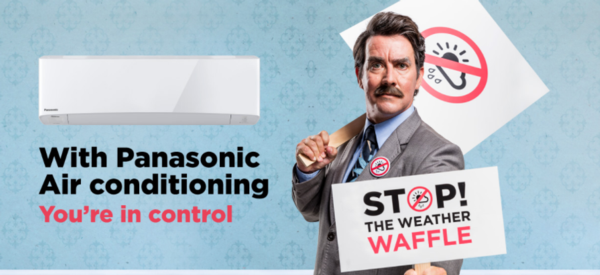 | | |
| --- | --- |
| (Added by Lassoo) - 390 views | ID: 29967 |
Our obsession with the weather must stop!
Free yourself from Weather Waffle with Panasonic Air Conditioning
Rain or shine, hot or cold, "Weather Waffle" is raging around the country. Commonly used as an icebreaker, to fill awkward silences, or as an excuse to have a rant, Kiwis are obsessed with the weather.
Perhaps it's because we often experience four seasons in one day, or maybe we really do have nothing better to talk about? However, Panasonic's new Air Conditioning range has been specially developed to put you in control of the weather and put a dampener on the weather chat, once and for all.
Panasonic Marketing Manager, Lynda-Anne Bodger says, "Kiwis are obsessed with talking about the weather. But ultimately, if you "take control" of your home environment there is no need to "waffle on about the weather" and with Panasonic Air Conditioning you can control the weather all year round."
The company is so committed to stopping the dreaded Weather Waffle, they have developed a mockumentary, starring 'What We Do in the Shadows' Jonny Brugh as ex-weather presenter, Ray Morningside.
After discovering the Panasonic Air Conditioner, Ray is on a mission to stop the Weather Waffle. "I don't want to hear the phrase, 'winter is coming', unless you're talking about Game of Thrones," he says, in a new campaign now running on multiple channels.
The Panasonic Air Conditioning range includes; Highwall Heat Pumps, Multi Room Systems, Ducted Systems, and Dehumidifiers.
Stop the Weather Waffle, take control of your comfort and book a consultation at PanasonicAirCon.co.nz
View the TVC: https://vimeo.com/262310844
#RayMorningside, #StopTheWeatherWaffle
-ENDS
For more information please contact: Hayley Burrows, Lassoo Media & PR hayley@lassoo.co.nz or 093700420
About Panasonic New Zealand
For almost a century, Panasonic's diverse range of products, technology systems and services have delighted customers and businesses in New Zealand and abroad.
At Panasonic, they understand how products can impact people's lives and this drives them to develop technology which is "clever made easy." They're passionate about staying true to their brand promise and making your everyday life better – at home, work, or on-the-go.
Recognised as one of the most trusted brands in New Zealand and abroad, Panasonic's reputation is backed up by award-winning levels of customer service and market-leading product innovation. Customers can always count on Panasonic for reliability and superior quality. Discover more at panasonic.co.nz