ENERGY
19 March 2009, 6:50AM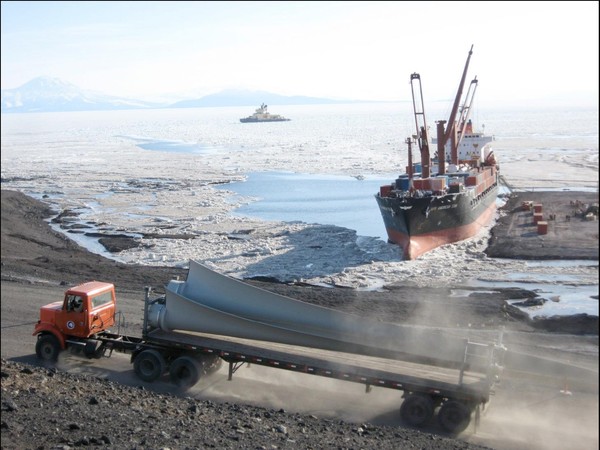 | | |
| --- | --- |
| CREDIT: Antarctica New Zealand (Added by infonews.co.nz) - 3013 views | ID: 4087 |
Wind turbine blades transported by truck from McMurdo Station ice pier
ANTARCTIC ROSS ISLAND WIND FARM ON TRACK
Ross Island wind farm update

The first stage of construction for the Ross Island wind farm in Antarctica was completed over the summer months (December 2008-February 2009).
The work included installation of the specially designed 'spider' foundations for the three wind turbines and installation of the power system between Scott Base and nearby US McMurdo Station to which the turbines will be connected.
The wind turbine components, as well as all other equipment needed to install the turbines, have been safely stored for the winter near the construction site on Ross Island.
Construction will begin again next summer (November 2009) with completion of the wind farm due in February 2010.
Background
The Antarctica New Zealand-Meridian Energy project is part of Antarctica New Zealand's contribution to the joint logistics pool with the United States Antarctic Program on Ross Island, Antarctica.
The three 333kW wind turbines at the Ross Island site will reduce the amount of diesel power generation by around 463,000 litres per year and will link to the electrical grids of both McMurdo Station and Scott Base.
Meridian, New Zealand's renewable electricity company, is bringing its expertise in development, construction, operation and management of wind energy to the Antarctic project.
Antarctica New Zealand and Meridian have been investigating the project since early 2005.