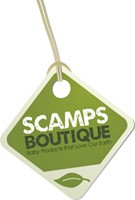 Scamps Boutique
Business // Fashion // New Zealand
Member since: 25 October 2009
Profile views: 2110
Scamps Boutique, Baby products that love our Earth. For all your baby needs from Cariboo nursery furniture, modern cloth nappies, fashion maternity and childrens clothing, baby carriers and so much more. You'll be surprised at our range!
Photos (1)
News (1)
Monday, 26 October 2009
1:38PM
Mothers Little Helper
Mother' Little Helper is the new organic must have for nappy bags, handbags and glove boxes, while providing for those in need.
346 views