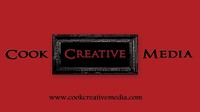 Cook Creative Media
Business // Media // Auckland
Member since: 18 January 2011
Profile views: 2635
Cook Creative Media wants to help you create your vision into a reality!

We are an Auckland based media company that specializes in Photography, Production Art, Graphic Design and Illustration, which includes:

- Photography: Portraits, Pet Portraits, Events, Weddings, Fashion and Production Stills.
- Production Art: Storyboards, Concept Art, Character Design.
- Illustration: Children's Books, Band Posters, Album Art and Comic Books.
- Graphic Design: Labels, Logo's and Advertising.
- Video Clips & Animatics: Animatic Storyboards, Short Animations, PreVis Concept Animatics.

We provide a mobile service to photograph your family, pets and corporate events and provide in-house photoshopping.

We can also help you design your visual projects from concept to finished product in many different industries such as Film and corporate marketing.


We invite you to contact us:
Lydia Turner - Head of Photography.
Cell Ph:021-265-1657.

Gair Cook - Head of Production Art and Design.
Cell Ph:027-286-6762.

Office Ph:(09) 630-4679.
Email: info@cookcreativemedia.com.
Website: www.cookcreativemedia.com
Cook Creative Media Ltd,
PO Box 10253 Dominion Rd,
Auckland 1446.
Photos (4)
News (4)
Thursday, 3 November 2011
11:26PM
"Courtship", the photography exhibition by Lydia Turner has a fantastic opening!!!
Thank you to everyone who came to the exhibition opening on the 2nd of November, it was Fantastic! If you were not able to make it "Courtship" is still showing until the 20th of November 2011 at Northart Gallery, open daily 10am-4pm with Free Admission.
269 views
Sunday, 30 October 2011
3:53PM
"Courtship" Photography Exhibition Lydia Turner
Cook Creative Media Photographer Lydia Turner presents her Masters of Design graduation photography exhibition, "Courtship: A photographic investigation of romantic engagement", at the Northart Gallery on Wednesday, November the 2nd 2011.
482 views
Tuesday, 14 June 2011
10:12PM
Lydia Turner of Cook Creative Media is a finalist in the 2011 Glaister Ennor Graduate Art Awards
The Glaister Ennor Graduate Art Awards aims to help emerging artists in Auckland.
671 views
Saturday, 22 January 2011
6:10PM
New Media Company Cook Creative Media wants to help create your vision into a reality
Cook Creative Media is the new Auckland based media company created by Lydia Turner and Gair Cook which specialises in Photography, Production Art, Graphic Design and Illustration.
639 views