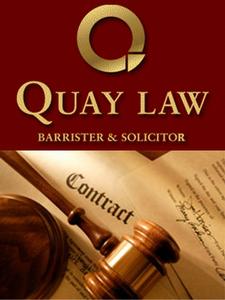 Lawyers at Quay Law NZ
Business // Legal // Auckland
Member since: 11 December 2011
Profile views: 1544
Auckland based, Quay Law NZ is a commercial and conveyancing law firm providing a specialised range of legal services to both business and private clients.

Our lawyers are able to provide legal services in the following areas:

- Conveyancing
- Sale and Purchase of Businesses
- Estate Planning, Trusts, Family Trusts and Asset Protection
- Wills and Estate administration
- Immigration
- Taxation
- Franchising
- Relationship Property
- Commercial Transactions
- General legal matters

Find a lawyer? Our focus is always on fostering a personable yet professional relationship that underpins the specialised legal services our lawyers provides to you, in the timeframe you require. Our legal services are of a high quality, yet are pragmatic and affordable.

Auckland Ph: (09) 5232408



Photos (0)
News (3)
Monday, 12 December 2011
9:06AM
What is a Trust?
A question our lawyers and trust specialists are often asked is "What is a trust ?" By way of a simple explanation, a trust is a form of transport, much like a container truck.
298 views
Sunday, 11 December 2011
12:14PM
Conveyancing - The process to purchasing a property
Buying or selling a home is one of the biggest financial commitments you will ever make.
287 views
12:08PM
What is a legal contract?
A contract can take different forms, some are verbal, some written, some are formal and some informal.
312 views