SPORT
15 February 2007, 4:08PM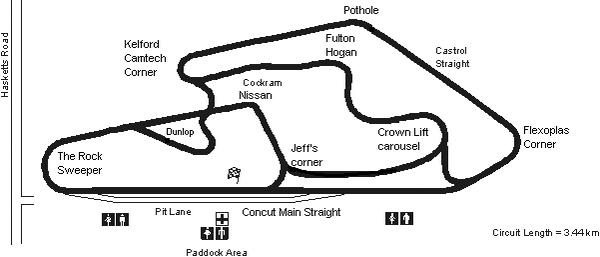 Powerbuilt Tools International Raceway at Ruapuna Park (Christchurch
Circuit Owners: Canterbury Car Club Inc.
Venue Licences: There are a number of configurations available with licences from FIA Grade 3 to National grades 1, 2 and 3.
Maximum Number of Starters: 45 single seater or closed saloons.
Direction of Racing: Anti-clockwise only.
Surface: Hot mix bitumen.
Situation: Approx, 13km NW of Christchurch on Hasketts Road, between Main South and Main West Highways.
Nearest Major Airport: Christchurch International.
Spectator Facilities: Raised banking around circuit with grandstands.
Accommodation: Numerous hotels and motels in Christchurch and district.
Circuit Facilities:
Garages. 30 Pit lane garages for hire with power, lighting and compressed air. Garages have vehicle access to paddock area and front onto pit lane.
Timing system. P.I. timing system installed adjacent to Start/Finish on R.H. side of track set to channel 1. To activate contact Park Manager or Canterbury Racing School.
Fuel. Permanent race fuel installation available 7 days per week by prior arrangement.
Electric Power. A limited number of power points are available.
Contacts:
Circuit Phone: (03) 349 6003
Administration and Circuit Hire: Manager, PO Box 16610, Hornby, Christchurch.
Phone: (03) 349 6003, Fax (03) 349 6004
E-mail: carclub@snap.co.nz
Website: www.canterburycarclub.co.nz
Testing: Public test days are Tuesdays and Fridays. All must report to the Ruapuna Office situated in the control tower complex before any testing to complete formalities and sign on.