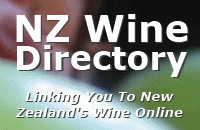 The New Zealand Wine Directory
Business // Wine // New Zealand
Member since: 20 August 2010
Profile views: 2548
The New Zealand Wine Directory is a web based directory and ever-growing collection of web links to New Zealand's wine industry and communities online - the "Searching, Finding and Organizing" has already been done for you.
Quickly link to the wineries and vineyards in each region, wine tourism, wine sales, wine events and competitions, social media, books, news and much more...
Follow us on Facebook and Twitter to keep up to date with news and online information in the NZ online wine community.
Website - http://nzwinedirectory.co.nz
Photos (1)