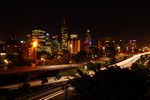 Matt Dodds
Individual // Sport // Southland
Member since: 30 January 2007
Profile views: 4064
I am a Freelance Videographer/ Web Designer/Animator based in Invercargill in the Deep South.
Photos (28)
News (6)
Tuesday, 15 June 2010
1:17PM
AMP Scholarship
Please put in a vote for me.
349 views
Monday, 2 July 2007
1:08PM
48hour film challenge Winners
In some entertaining viewing on C4 music channel last night, the regional finalist for the 48 hour challenge were screened and the winners announced.
512 views
Thursday, 21 June 2007
1:40PM
chase
The brief: Write, shoot and edit a 3 minute chase scene.
1208 views
Saturday, 26 May 2007
5:32PM
Well-being of Waikato River focus of draft Treaty agreement
A draft Agreement in Principle (AIP) to settle Waikato-Tainui's historical Treaty claim to the Waikato River was released publicly today.
522 views
Thursday, 10 May 2007
3:49AM
Ride shares
past due Error
1366 views
Saturday, 17 March 2007
8:25PM
How big is yours?
How big would you say any of the waves are in the posted photos? I'm just being a Kurious Kiwi that's all. Because peoples' opinions differ, as to how big waves actually are.
517 views