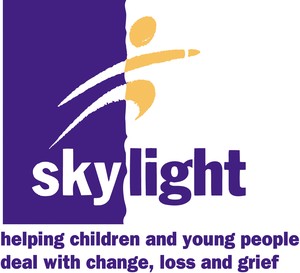 Skylight
Business // Community // New Zealand
Member since: 17 September 2009
Profile views: 3297
Skylight is a national charitable organisation that provides unique and innovative support services to children, young people and their families/whnau through times of change, loss, trauma and grief - whatever the cause.
Skylight works hard to make a difference to thousands of lives. Lives of children, young people and their families/whanau affected by grief, loss and change.
If you, or someone you know, needs our support please call 0800 299 100 or go to our website www.skylight.org.nz.
Established in Wellington in 1998, Skylight helps some 5,000 people throughout the country each year. Skylight provides:
The most extensive specialist National Resource and Information Service in New Zealand on loss, trauma and grief – specialist books and support resources, DVDs and games are all available to borrow or purchase. The website www.skylight.org.nz also offers helpful downloadable articles, activities and helpful links.
Specialist Counselling and Support for individuals, groups and families. A variety of children's groups, an adult bereaved by suicide group, and individual and family group counselling is available.
Professional Training and Development for those who work to support grieving children, young people and their families/whnau. Courses are offered throughout New Zealand to meet the needs of different professional, community groups and agencies.
Advocacy to enhance awareness and understanding of the impact of change, loss, trauma and grief on society
The Travellers Programme - an innovative small group programme for students in their first year of secondary school. Developed by Skylight, Travellers enables young teens to build their resilience and to learn skills to cope with life's knock backs and challenges. See www.travellers.org.nz. This programme is funded by the Ministry of Health – under their Suicide Prevention Strategy.

While each situation is unique, people contacting Skylight are seeking support for difficult life issues, including death, suicide, illness, disability, accidents, family break up or other family changes, trauma, difficult relationships and violence.

Photos (11)
News (6)
Tuesday, 8 June 2010
10:56AM
Skylight support resources assist bushfire schools
On February 7, 2009, several bushfires ignite across the Australian State of Victoria.Innovative New Zealand grief and trauma support agency Skylight (www.skylight.org.nz) thought about how best to respond, swinging into action to quickly provide over 25,000 adapted resources.
771 views
Wednesday, 26 May 2010
2:34PM
FROM DAYLIGHT TO SKYLIGHT – LOCAL COMPANY GIVES CHARITY A BOOST!
News Release 19 May 2010 FROM DAYLIGHT TO SKYLIGHT – LOCAL COMPANY GIVES CHARITY A BOOST! Skylight and HomeTech Solatube today announced a new partnership between the two organisations that will see HomeTech Solatube make a donation to Skylight Charitable Trust for every Solatube Daylighting System sold.
351 views
Friday, 26 February 2010
10:22AM
Golf Classic Chips in for Skylight
The weather smiled on us with a perfect day for our annual Skylight Golf Classic.
709 views
Friday, 16 October 2009
2:10PM
GRIEF AND MENTAL HEALTH
In light of the recent Mental Health Awareness Week, Skylight reflects on its Grief Is Like A Wave support resource to help people make the connection between grief and mental well being.
400 views
Tuesday, 22 September 2009
10:25AM
Supporting Children Through What Troubles Them Most
Recent New Zealand research asked children around the country aged 8-12 years old to identify what worries them the most.
410 views
Thursday, 17 September 2009
3:30PM
Supporting Teens Through Tough Times
Skylight has launched an innovative new single edition youth support magazine, 'The Journey Through', which honestly and frankly tackles the very difficult issues teens and young people face.
396 views