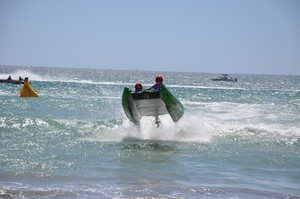 Thundercat Racing Association of New Zealand
Business // Sport // New Zealand
Member since: 23 December 2010
Profile views: 3177
Thundercat racing is a high adrenalin, high action sport with explosive wave jumping and tight competitive surf racing in a tunnel hulled inflatable boat.
The crew consists of a driver steering the boat and a co-pilot who uses their weight to stabilise the craft in order to achieve maximum speed.

The national series consists of two different types of racing; Surf-cross and Endurance. Surf-cross is traditionally run at surf beaches with spectacular jumps, high speeds and plenty of thrills and spills with boats reaching up to 80kph in the surf. Endurance racing is long distance racing taking place on rivers, lakes, bays or down the coastline to test endurance, reliability and team organisation.

Thundercats racing originated in South Africa where they began racing in the early 80's with local crews racing inflatable boats down treacherous rivers and along the rugged coastline. Inflatable boat technology has come a long way since those first thrill seeking pioneers, but the sport is still as

Racing is run traditionally at surf beaches which provide spectacular jumps, thrills and spills with boats reaching 80kph in the surf. Surf-cross races start with a 'Le-mans' style start where the driver dashes out into knee deep water to the co-pilot holding the boat. The teams then battle it out over several laps on a rectangular shaped course running parallel to the shoreline in as little as 300mm of water. The finish is dramatic as boats skid up the beach for co-pilots to leap out the front of their boats and run to the FINISH line.

Photos (5)
News (3)
Sunday, 16 January 2011
8:25PM
HIGH SPEED ACTION AT WAIPU COVE
Waipu Cove will be host to the fourth round of the Thundercat Racing National Series competition on January 29 and 30, providing Waipu Cove residents and visitors with an adrenaline filled weekend.
352 views
Monday, 3 January 2011
3:13PM
THUNDERCAT RACING REVS UP FOR THE NATIONAL SERIES
People heading to the beach this summer will be treated to a thrilling display as Thundercat racers hit the water to compete in the National Series 2011 championship across New Zealand.
375 views
Thursday, 23 December 2010
10:01AM
A spectacle of speed in Whangamata waters
Beach goers will be treated to a thrilling display as Thundercat racers compete in the National Surf Cross race in Whangamata on January 3.
372 views