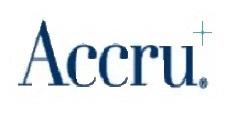 Accru - Chartered Accountants
Business // Finance // New Zealand
Member since: 29 March 2011
Profile views: 3324
Accru Smith Chilcott Limited is an experienced team of chartered accountants based in the centre of Auckland. As a member of the Accru group, our clients also benefit from access to skills and experience throughout Australia as well as in New Zealand.

We have many long standing clients in a wide range of industries, including import and export, legal services and property investment. We also specialize in US tax returns.

Please call our Managing Partner, Peter Chatfield on + 64 9 379 8035 to find out more.
Accru Group

Accru is a leading network of independently-owned chartered accounting firms in Australia and New Zealand. We combine the personalised approach of a local firm with the skills and networks of larger scale organisations to create positive financial solutions for our clients.
With around 300 professionals and support staff in seven offices across Australia and New Zealand, Accru offers local expertise backed by the resources of an international practice. Through our membership of CPA Associates International, one of the largest independent networks of accounting firms globally, we can also leverage a network of professionals in 73 countries to help you maximize your international business potential.
Established in 1984, the Accru group is unified by a shared vision: to provide prompt, personalized and consistent premium service across all our accounting, business advisory and financial services.
For more details Click Here.
Photos (1)
News (3)
Tuesday, 24 April 2012
11:17AM
Tax compliance for US citizens residing in New Zealand and Australia
US citizens and green card holders are required to file a US income tax return annually regardless of where they reside. The US taxes its citizens and green card holders on their worldwide income. The deadline to file a US individual income tax return isthe 15th day of the 4th month after the close of the tax year, which is usually the 15th April. Read Full Article.
975 views
Friday, 29 April 2011
3:10PM
Outsourced Accounting and Financial Management Solutions by Accru Accountants
Accru is a leading network of independently owned chartered accounting firms in Australia and New Zealand. By providing a large range of outsourced accounting and financial management solutions, Accru can save you valuable time and energy and give you accurate, timely information to help you make better business decisions.
361 views
Tuesday, 29 March 2011
4:32PM
Error - Page not found
Error - Page not found
246 views