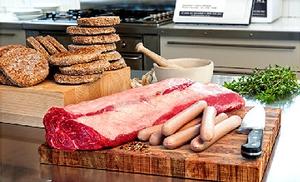 My Butcher
Business // Food // Christchurch
Member since: 23 November 2011
Profile views: 2766
My Butcher knows that the best dishes start with premium ingredients, and we're dedicated to providing you with the best quality meats on the market. My Butcher's parent company, ANZCO, exports high-quality, New Zealand meats to restaurants around the world and our goal is to make these export-quality products easily available to New Zealanders.
Convenience of an Online Butchery

Our butchery runs entirely online, allowing our customers to browse our selection and order at their own convenience. No more running out before the butcher closes, or planning a meal around a cut of meat that is out of stock. Simply buy meat online and wait for your order to arrive at your door!
Photos (4)
News (2)
Wednesday, 28 March 2012
3:50PM
Online Butcher Fits the Bill for Busy Gourmets!
If you're addicted to Masterchef and your tv watching rarely strays from the Food Channel, chances are you also like to try your hand at some of those mouthwatering dishes.
241 views
Friday, 25 November 2011
9:10AM
Export Quality Meats Now Available Online to South Island Cooks
Canterbury based Mybutcher.co.nz is now making it possible for home cooks to conveniently access the best quality New Zealand beef, lamb and small goods for their special occasions, dinner parties and events.
973 views