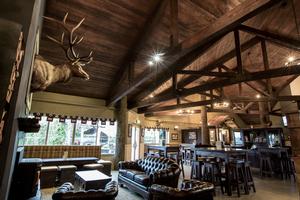 Hotel Hanmer & Conference Centre
Business // News // New Zealand
Member since: 30 December 2012
Profile views: 3381
Five Stags Restaurant Bar is our onsite dining and entertainment venue. Five Stags Restaurant Bar offers a unique dining experience in a hunting themed lodge. Enjoy the indoor outdoor flow, relax around the outside open fire on a chilly alpine evening or nestle in front of the inside fire catching up with friends and family over a drink or meal. Summer months our outdoor area is ideal to take in the sun, enjoy the views of the alpine ranges and again a lovely meal from the restaurant.
formerly known as Hot Springs Hotel we have had a major renovation and rebrand.
With Executive Chef Richard Crawford now leading the way in the Kitchen we are enjoying very exciting times here at Five Stags Hanmer Springs.
New menu, new environment we are certainly a spot you should put on your list to stop at for breakfast, lunch, dinner or even a casual drink when you next visit Hanmer Springs
Photos (6)
News (5)
Friday, 5 July 2013
6:56PM
50 Years goes too fast
Let me set the scene, 29 June 1963 and eleven 18-22 young oarsmen assemble for the first time to start training, to represent New Zealand Rowing at the 1964 Olympics Japan.
575 views
Sunday, 3 March 2013
11:07AM
Not to 'Old Skool' to have fun!
Just about everybody has either ridden or been for a ride on one, love them or loath them, even the toughest motorcycle enthusiast probable learnt to ride on one. What am I talking about? Classic Honda's, Yamaha's, Suzuki's and Kawasaki's.
387 views
Sunday, 27 January 2013
1:35PM
Tourist give rave reviews to breakfast buffet
Tourist and holiday makers in New Zealand's number one 'AA 101 things to do' town of Hanmer Springs are keen to express their positive comments of Hotel Hanmer and conference centre's (formally the Hot Springs Hotel) Sunday Buffet.
474 views
Sunday, 13 January 2013
9:48AM
Stig spotted in Hanmer Springs
800 views
Sunday, 30 December 2012
10:22AM
National Party set to enjoy Alpine Conference Venue
Hotel Hanmer and Conference Centre (formally The Hot Springs Hotel) in Hanmer Springs is under new Ownership/ Management and is fast becoming a popular venue for conferences and team building meetings.
1456 views