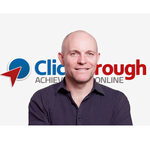 Clickthrough Digital Marketing
Business // Education // Auckland
Member since: 28 September 2015
Profile views: 972
Clickthrough is a web services company based in Auckland, New Zealand. We offer a range of best-in-class web marketing services, such as SEO, social media marketing, digital marketing and training courses (Google Analytics, SEO for beginners and paid search engine marketing short courses).
We service a range of companies across New Zealand and Australia.
Photos (0)
News (2)
Thursday, 22 February 2018
9:56AM
New Social Media Courses for NZ Companies
Clickthrough Digital is now offering digital marketers and budding entrepreneurs a fantastic opportunity to upskill at their new social media training courses.
100 views
Tuesday, 8 August 2017
6:32PM
Brand new e-Training courses: SEO, AdWords & Analytics
Clickthrough Training just launched a new virtual e-training service designed to help people learn how to manage AdWords, Google Analytics and SEO more effectively.
206 views