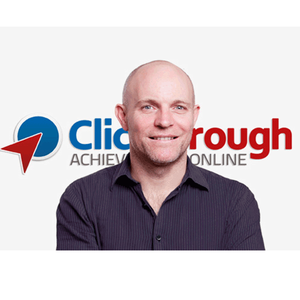 Clickthrough Digital Marketing
Business // Education // Auckland
Member since: 28 September 2015
Profile views: 1922
Clickthrough is a web services company based in Auckland, New Zealand. We offer a range of best-in-class web marketing services, such as SEO, social media marketing, digital marketing and training courses (Google Analytics, SEO for beginners and paid search engine marketing short courses).
We service a range of companies across New Zealand and Australia.
Photos (4)
News (23)
Thursday, 17 October 2019
12:22PM
Office Heating & Cooling Method to Transform NZ's Commercial Market
Managing thermal comfort in the workplace is paramount for staff wellbeing, but New Zealand is lagging behind – until now.
200 views
Monday, 30 September 2019
10:55AM
Martial Arts Enthusiasts to Benefit from New UFC Range
Achieve Fitness is proud to announce they now stock a range of UFC equipment to benefit those in martial arts.
127 views
10:54AM
Innovative Grow Lights Hit the Market
One leading New Zealand hydroponic store has vowed to take care of the problems plaguing the grow light market.
138 views
Thursday, 29 August 2019
8:28AM
New Zealand Digital Company Undergoes Major Rebrand
To better serve the needs of its customers, established digital marketing company E1 has rebranded as NZ.Digital.
133 views
Monday, 19 August 2019
1:44PM
Leading Auckland SEO Company Opens New Office
Auckland-based SEO company Clickthrough Digital Ltd will be expanding their reach into Takapuna with the opening of a new office.
170 views
Monday, 12 August 2019
8:52AM
Auckland & Wellington Based Cleaning Company Making Waves in the Business World
Office cleaning company CMOS have established a reputation as a high-quality cleaning company in operation throughout New Zealand.
197 views
8:51AM
Businesses find Preventative Maintenance Advice a Winner for Longer Life
225 views
Thursday, 25 July 2019
2:55PM
Leading Auckland SEO Company to Launch White Label SEO Services
Auckland-based SEO company Clickthrough Digital Ltd will be launching specialist SEO services to New Zealand, Australia, and United Kingdom-based agencies.
246 views
Friday, 5 July 2019
9:21AM
Progressive Company Makes Quality Onsite Hose Repair Easier
Every year, the forestry industry loses over $130 million in lost productivity.
675 views
Monday, 24 June 2019
7:53AM
Wool Garments a Must Have in New Zealand Wardrobes
New Zealanders can expect a colder-than-average winter season this year, and wool clothing is flying off the shelf as a result.
124 views
Wednesday, 12 June 2019
12:59PM
Innovative Home Radiant Heating & Cooling Solution has hit the New Zealand market
Every year, 1600 deaths are contributed to insufficiently warmed homes in winter in New Zealand.
261 views
Wednesday, 5 June 2019
9:39AM
YRCO CEMENTS IN NEW CONCRETE BRANDS
Leading manufacturer and supplier of products to the Australian and New Zealand concrete and construction markets, Parchem Construction Supplies has recently appointed Youngman Richardson and Co Ltd as an approved agent for its Fosroc brand throughout New Zealand.
308 views
Friday, 31 May 2019
3:56PM
New Podcast to Highlight the Importance of SEO
On Insert date here, Clickthrough Digital will be starting a podcast series on Search Engine Optimisation, AdWords, and Social Media Marketing.
301 views
3:55PM
Field Day Season Calls for Field Day Specials with Farmgard
Field Day season is almost upon us.
291 views
3:53PM
New Amantii Electric Fire Range Sets the Heating Market Ablaze
With winter well and truly here, nationwide heating specialists Turfrey are now proud to offer an electric fire with a difference.
271 views
3:52PM
New E-Liquid Brand to Closely Mimic Cigarettes
Ode, a handcrafted e-liquid brand sold by E-Liquids NZ, is answering the call to create a more genuine tobacco-flavoured product.
272 views
3:51PM
2020 General Election to Include Cannabis Referendum
Those who purchase cannabis accessories and equipment have often been made to feel like criminals.
268 views
3:49PM
New Smoking Cessation Product a 'Quit Smoking Game Changer'
The Stratus Pod Kit from vape products supplier Vapourium is one of many new innovative products to hit the market.
284 views
Monday, 15 April 2019
10:49AM
Businesses Benefiting from Digital Training Courses
From April 21 until June 21, 2019, Clickthrough Digital is hosting digital training courses to help companies to improve their online presence.
792 views
Wednesday, 29 August 2018
11:23AM
Boost rankings with our free SEO Audit App
Clickthrough has just launched a new free SEO audit tool that enables companies to score their website and a competitor's web pages against an established set of SEO factors.
728 views
Monday, 9 July 2018
12:04PM
Google rolls out mobile first indexation to New Zealand
Google rolls out mobile first indexation to New Zealand.
723 views
Thursday, 22 February 2018
9:56AM
New Social Media Courses for NZ Companies
Clickthrough Digital is now offering digital marketers and budding entrepreneurs a fantastic opportunity to upskill at their new social media training courses.
679 views
Tuesday, 8 August 2017
6:32PM
Brand new e-Training courses: SEO, AdWords & Analytics
Clickthrough Training just launched a new virtual e-training service designed to help people learn how to manage AdWords, Google Analytics and SEO more effectively.
305 views