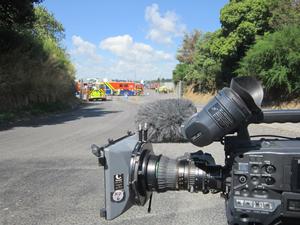 News Man
Individual // News // Taranaki
Member since: 8 February 2013
Profile views: 3832
Born and bred in Taranaki, I have a passion for local news and sports.
I am a reporter for Radio Live based in New Plymouth providing local news and sport for the network.
The stories I source for them I upload on InfoNews creating local exposure for the district and province.

If you would like to get in touch, please send me an email wjohnston@mediaworks.co.nz
Photos (1)
News (19)
Thursday, 17 March 2016
3:59PM
Heavy rain hits New Plymouth
Torrential rain has caused havoc in New Plymouth today with businesses shut and residential properties affected.
611 views
Sunday, 23 March 2014
11:25PM
Mola and Hursey win in New Plymouth
973 views
Tuesday, 7 January 2014
12:15AM
Church hard to mend after fire
619 views
Thursday, 5 September 2013
2:10PM
Wild winds continue in Taranaki
Over 1000 people are without power in South Taranaki as strong winds batter the region.
331 views
Sunday, 14 July 2013
7:25PM
Strong winds cause problems in Taranaki
Parts of Taranaki are without power this evening after strong winds have battered the region.
517 views
Saturday, 8 June 2013
10:05AM
One person shot dead
One person has been shot dead during an Armed Offenders Squad this morning.
651 views
Friday, 12 April 2013
12:15PM
$4.5 given to hospital board
The TSB Community Trust has granted $4.5million to the Taranaki District Health Board.
351 views
Saturday, 30 March 2013
9:45AM
Family lucky to be alive
Smoke alarms have saved the lives of a family of 5 after a house fire in New Plymouth this morning. 4 fire appliances were called to a Vivian Street property to find it fully involved shortly after 3 this morning.
389 views
Monday, 18 March 2013
11:39PM
Tornado in New Plymouth
Two houses on the outskirts of New Plymouth have been damaged by a tornado.
756 views
Saturday, 2 March 2013
11:19PM
UPDATE: Fire now out
Up to 60 firefighter and 15 fire trucks were used to control a massive fire in the Auckland suburb Westmere tonight.
376 views
10:15PM
UPDATE: Major fire in Auckland
482 views
10:02PM
Major fire in Auckland
Auckland firefighters are battling a large fire in the suburb of Westmere and three people are unnaccounted for. 15 fire trucks, including ariel and ladder units and up to 60 firefighters were called the the scene shortly before 8:30 this evening where 3 houses are alight.
334 views
Friday, 1 March 2013
3:51PM
Fire at Hawera's Fonterra site
Firefighters are currently battling a blaze at Fonterra's Whareroa site south of Hawera.
450 views
12:59AM
Len Lye Centre confirmed
The controversial Len Lye Centre has been given the go-ahead after a meeting in New Plymouth last night.
313 views
Wednesday, 20 February 2013
11:00AM
Sawmill fire in New Plymouth
Fire crews were kept busy after a blaze tore through a sawmill on the outskirts of New Plymouth last night.
340 views
2:11AM
Sawmill fire in New Plymouth
A sawmill has been on fire this evening in New Plymouth.
436 views
Wednesday, 13 February 2013
12:35PM
Students back at school
The five students from a Taranaki school who suffered from smoke inhalation after a fire yesterday are now back in the classroom.
258 views
Tuesday, 12 February 2013
9:35PM
Six taken to hospital after fire
Six students have been taken to hospital after suffering from smoke inhalation in a fire in New Plymouth this afternoon.
331 views
Friday, 8 February 2013
12:42PM
Truck crash north of Urenui
Driversions are still in place after a truck carrying LPG bottles crashed north of Urenui this morning.
334 views